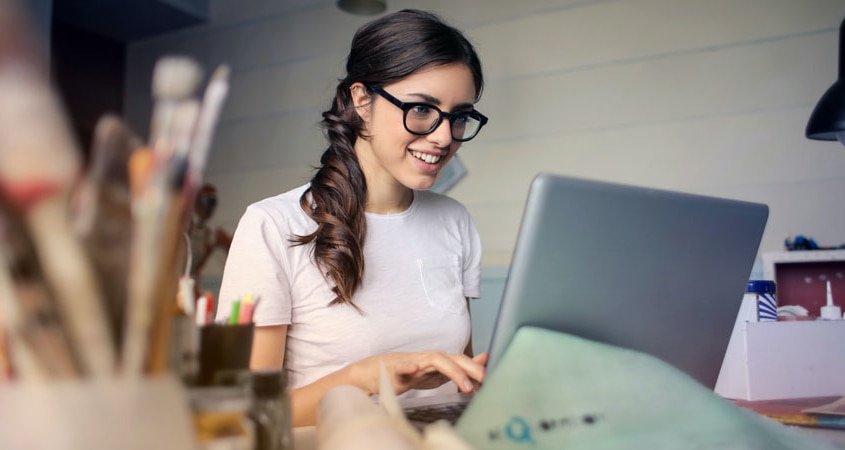 Consulting and Project Management from the Home Office
Consulting and project management thrive on working directly with people. However these crisis times, which sometimes even mean one's social and professional life are locked down, mean work is moving increasingly into the home office, and suddenly teams are dislocated but still need to work together. Following are a few tips for working under such conditions.
Spirit in Projects' own work as consultants and project managers as well as our collaboration with clients has not been immune from these changes over the last few weeks, and all activities with our clients are now digital. All of a sudden, many companies have had to roll out new tools for digital collaboration, while others, which previously had traditional organizations, now make extensive use of flexible models for work and working time.
In our opinion, the present changes in the work world are having a disruptive effect and will continue to exist well beyond the present crisis. Digitalization is a process that can't be reversed, since the novel channels of communication will continue to exist beyond the crisis.

Wolfgang Hiermann, CEO
What works best for your company and your day-to-day work routine is often a matter of trial and error. However, we would like to pass on a few tips with regard to physical distancing, which we've gained from our experience in consulting and project management.
Making Clear Arrangements & Establishing Rules
Clear arrangements with team members regarding work assignments and expected results are especially important when managing dislocated teams. Since every now and then a home office means there are far fewer opportunities for contact and informal exchange, it's especially important for team members to have a clear understanding of the expectations made of them.
As a result, your team should openly discuss items such as our tips for meetings and for a home office infrastructure, and should establish rules for dislocated collaboration so that all workers are clear on where they're headed.
Working as a Team from a Home Office
The greatest danger in a widespread home office is the loss of common social structures. A few simple tips can help to create a structure which makes collaboration possible and doesn't restrict it unnecessarily.
When you're leading projects managed completely online, it's more important than ever for your team not only to plan on the fixed structure of meetings which becomes necessary, but also to allow for enough room to work and for one-on-one meetings between team members (and not completely fill up the team's calendar). Key tips include:
Standup meetings
As social beings, we seek to have exchange with others. The normal chitchat around the coffee machine is impossible in a home office environment, but still should not be underestimated as a hub of information. Make sure you establish a number of fixed meetings throughout the week, both "coffee chats" in which colleagues can talk socially as well as "standup video meetings" in which colleagues can discuss tasks. Of course, both elements can also be combined into one meeting, but these must then be time-boxed.
Keeping One-On-One Meetings
When your day-to-day working routine is virtual, you need some kind of substitute for "just going to a colleague's desk for a second". So instead of an "unscheduled meeting" in the office, dedicate times for having fixed one-on-one meetings with key colleagues. Make sure these discussions have a relaxed atmosphere – something like a "virtual coffee break".
Self-Discipline vs. Flexibility
Arrange fixed periods of time during which your team members are accessible. When you're at home, there're just too many distractions, and there's always the danger of just letting yourself go. Fixed periods of time can help with this – plus you don't always need to be accessible when you're in your home office. However, team members will know that you'll be at your home office at the arranged times.
Establishing Channels of Communication
It's a good idea to establish channels and tools of communication for your team in advance (email, Slack, Skype, MS Teams, Zoom, etc.). Since our clients use different tools, we've already installed the most popular collaboration tools on our work devices for the most part, meaning we're already prepared for external meetings.
Maintaining Common Task Lists / Kanban Boards
Well-managed task lists and kanban boards which are shared online, in combination with numerous meetings during the week, mean everyone has a handle on their own work and also knows what everyone else needs to do. This also applies for project plans, and this transparency helps the team.
However, watch out for ticket jumpers who work on one ticket one day and another the next, and wind up not finishing any. The trick here is to limit the number of tickets in the work flow.
Basic Infrastructure for the Home Office
The basic requirement for all of the above is a good infrastructure, which should be made clear early on and available to all team members. The infrastructure should include:
A workplace in which you can work in peace (either a small, separate room or a very quiet corner to which you can withdraw and is a good distance from other roommates).
A stable, high-performance Internet connection, ideally a cable connection which can automatically fall back to a mobile phone connection.
High-performance mobile work devices (notebooks, webcams, etc.)
Good microphone and headset (especially in "open" rooms in the home office where background noise needs to be reduced).
Adequate access to company applications and data (VPN gateways and authorization options).
Suitable systems for online meetings such as MS Teams, WebEx or Zoom, which also offer whiteboards and screensharing.
Wikis such as Confluence (great as online meeting protocols, and include Gliffy diagrams to quickly record processes – e.g. swimlanes and UML).
Essential tools also include productivity tools such as MS Office, which ideally provide for shared document processing.
Bottom Line: Taking Advantage of the Home Office
Our experience shows that home office collaboration doesn't just bring challenges, but also opportunities. For example, meetings held online can often be organized so they're more productive. In addition, a home office environment makes it possible to reinforce key skills which can also be put to good use later in collaborations with other dispersed teams. As consultants, we believe that these changes in the working environment will disrupt and shape future collaboration on a permanent basis.
It definitely helps to already have a sound knowledge of methods in the field of project management and agility – this will make the defined framework (e.g. standup meeting or kanban board) clearer to all participants. Here, we in the team also use the time to build up additional competence through training – a recommendation we also give to all our clients.
---
Learn more about our trainings for project management and agile methods:
https://spiritinprojects.com/wp-content/uploads/2020/05/projektmanagement_home_office_artikel.jpg
450
900
Wolfgang Hiermann
https://spiritinprojects.com/wp-content/uploads/2020/04/sip_web_padding_10px_topbot.jpg
Wolfgang Hiermann
2020-05-31 18:02:44
2022-08-26 07:11:24
Consulting and Project Management from the Home Office