T-Shaped Manager: Skills for Successful Projects
How do you as a project manager manage the balancing act between nerd and organizer? Unless you have the superpowers shown in the image at the top of the page, our experience shows that "t-shaping" is one answer to this. In this blog article, our senior project manager Wolfgang Rauscher passes on his practical experience and shows you how a good mix of skills can be invaluable in managing projects.
These days, demands made on project managers go well beyond having a mastery of project management methods. Projects are becoming more and more complex, and process digitalization is altering company business models. It's no longer enough for IT project managers to fall back on broad knowledge in the area of project management – instead, specialized skills are becoming increasingly important. The concept of T-shaped project management explains this paradigm shift.
What's a T-Shaped Person?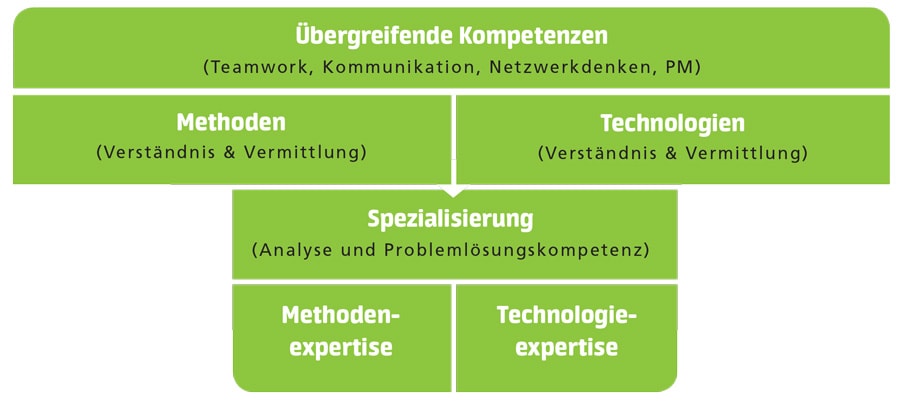 In T-shaped project management, the horizontal bar of the letter "T" stands for broad competence – so in the case of an IT project manager, this would mean that he or she shows sound, detailed, knowledge of project management methods. The vertical bar of the letter "T" stands for specialized competences in a specific field, such as test management or architecture.
In my experience, specialized competencies increase a project manager's level of acceptance within a project team, as specialists will see you as an equal.

Wolfgang Rauscher
The two bars together form the letter "T" and thus describe a T-shaped project manager – one who shows both broad competence in project management as well as in-depth expertise in a given area of specialty. The example below illustrates how that works in practice.
Being T-Shaped in Practice: Meaningful Skill Sets
What I've already seen in many projects is that requirements engineering is an area of specialty which is almost perfectly suited to project management. As a result, my own "T-shape" has project management as a broad competence. Then my in-depth expertise includes requirements engineering and telecommunications.
Requirements Engineering as a Broad Competence: Better Understanding and Assessment
My know-how in the field of requirements engineering makes it possible for me as a project manager to have a thorough understanding of the actual content of a project. By flexibly applying a variety of elicitation methods during the analysis phase of a project, I can create the basis in my projects for working out project content in detail.
As a project manager, I can then accurately plan out work packages on the basis of that content ("proper division of tasks") and also specify their deliverables in detail. As a result, the extremely important issue of cost and time estimation becomes much easier, as well as determination of the project budget required for implementation. My assessments become more accurate since my work packages are planned in better detail.
To sum, projects which are planned and managed by a T-shaped project manager who has requirements engineering as an area of specialty show the following advantages:
In general, fewer changes over the course of the project
The three core components of time, content and costs which are established in the project order are  analyzed in greater detail and are planned more precisely.
In the event of unavoidable changes, a T-shaped project manager is capable of analyzing their repercussions in detailand revising project plans accordingly.
Technology as a Broad Competence: Credibility
Another of my areas of specialty is my detailed, technical knowledge in the field of telecommunications, which has often paid off for me in terms of building trust in the project team (which is especially important when working as an external project manager). At the beginning of a project, team members are often hesitant or restrained when dealing with their project manager – it's basically an attitude of "Let's see what he can do!"
If you find yourself in that situation but can show the project team that you're one of them, and not only do you have a handle on project management methods but you can also "talk the talk", you already have the team on your side. Project team members feel like they're included, feel that you understand them and that they're in good hands. One member of a project once told me, "Finally we've got a project manager who speaks our language!" That kind of high acceptance by the project team has often made my life as a project manager much easier. Projects managed by a T-shaped project manager who shows detailed technical know-how generally have the following advantages:
The project manager understands the technical content of work packagesand can recognize when a project team member has incorrectly assessed the time and/or cost required for a task.
Work packages are planned with much greater accuracy.
The project manager is accepted by the project team.
The project team identifies with the project ("It's OUR project!") and work quality improves as a result.
Forming a project team becomes easier, since the project manager isn't an outsider in the team, but "one of us".
Bottom Line: T-Shaped Skills Make it Possible to Manage Projects More Successfully
My experience shows that T-shaping makes it possible to better control projects in all their complexity. This starts with soft factors related to project marketing ("credibility") and communication between nerds and managers that's on equal terms, and ends with more accurate assessments, better change management and more precise planning.
In general, one doesn't acquire a skill set of that nature immediately after education, but develops it over the course of one's professional career. It also changes every now and then, and you create even more areas of competence for yourself. A keyword now exists for this – the hashtag-shaped (#-shaped) project manager. In any case, sound training is a good basis for building up these skill sets, which is why I also enjoy imparting my experience as a trainer.
---
Learn more about our trainings for RE and project management:
https://spiritinprojects.com/wp-content/uploads/2020/04/tshaped.jpg
450
900
Wolfgang Rauscher
https://spiritinprojects.com/wp-content/uploads/2020/04/sip_web_padding_10px_topbot.jpg
Wolfgang Rauscher
2020-04-29 14:37:02
2022-08-26 07:26:15
T-Shaped Manager: Skills for Successful Projects