Agile methods refer to the flexible implementation of software projects and by this time has become an indispensable part of the daily routine of many IT organizations. Agile methods were originally developed to manage small teams who needed to develop a product quickly and across a number of disciplines.
Today, agility methods are being used increasingly for large projects and in complex organizations. However, these methods then need to be adapted and expanded accordingly, but in such a way that the original benefit of the approach remains, namely the flexibility to respond to changes quickly. In that context, the approach is then referred to as Agile 2.0.
With Agile 2.0, the agile mindset and agile methods are making their way into large organizations and projects as well. However, being "agile" shouldn't just be an end in itself. Any organization which wants to develop an agile attitude must also undergo a cultural change. At the same time, agile methods and techniques must also be applied and integrated in a meaningful way.
Agile Mindset & Agile Methods
The term agile refers to a set of widely varying methods and techniques, some of which come from the field of industrial manufacturing and some of which come from the field of software development. In the 1990s these sectors were closely bundled together. The approach's underlying values and principles were first put on paper at a meeting in Utah in 2001 as the Manifesto for Agile Software Development.
These deliberations centered on flexibility, cooperation and a focus on customer value. The most common agile methods include:
Scrum
Unified Process
Extreme Programming
FDD
RAD
Agile Enterprise
AMDD
DSDM
EVO
Another primary challenge in integrating agile methods and processes within an organization lies in not turning the graphic above upside down – in other words, not starting from the methods themselves, but beginning with the mindset.
2012

Introduction of "PMI Agile Certified Practitioner" certification

1999

1995

Schwaber/Sutherland introduce SCRUM

1988

DuPont uses Rapid Iterative Production Prototyping (RIPP) with Timeboxing

1986

Nonaka/Takeuchi lay the foundations for Scrum

1985

1968

Harlan Mills (IBM) makes a plea for incremental, participative software development

1958

Project Mercury (NASA) - iterative software development

1947

Taiichi Ono develops Kanban for Toyota

1943

Lockheed uses agile methods for the P-80
Challenge: Being agile
Challenges which new agile methods must meet include:
Agile development distributed over multiple teams

Collaboration with non-agile projects and suppliers

Integration within demand and portfolio management

Agile teams in distributed locations

Applying agility in project analysis and planning as well

Inclusion of agility in estimation procedures

Taking agility into account for invitations to tender and supplier interfaces

Integration of agile development in traditional controlling and reporting

Agility in the development of critical systems

Integration of agile development in quality management
Our consulting approach with regard to agile methods
We combine flexibility with predictability so that even complex projects can take advantage of agile methods.
Leveraging potential
Any organization which wants to leverage the potential of agile methods must not think in terms of black and white or get caught up in thinking in stereotypes between agility and conventional methods. Instead, the focus should be on integrating and using the full potential of agile methods. In addition, predictability, traceability and quality management must not be left out of the equation.
The fact that all these issues can be bridged is proven by the many projects which have met success in the light of Agility 2.0.
The experts at Spirit in Projects will support you step-by-step in establishing agile processes in your organization or in planning, developing and carrying out agile projects.
https://spiritinprojects.com/wp-content/uploads/2019/06/agile_kanban_spiritinprojects.jpg
627
1254
spiritmarketing
https://spiritinprojects.com/wp-content/uploads/2020/04/sip_web_padding_10px_topbot.jpg
spiritmarketing
2019-05-25 16:04:49
2020-03-25 17:57:50
Agile Methods
When it comes to IT invitations to tender, public authorities in particular face a major dilemma. For one, the systems they seek to acquire are essential and need to be procured as quickly as possible, and of course at a justifiable cost. In addition, because of the legally prescribed procurement procedure, they're limited in their choice of tenderer: In reality, the highest bidder from the procedure often isn't the company which can actually deliver the best solution within the given stipulations of time, budget and organizational framework.
As a result, public authorities spend great effort and expense on designing a "watertight" performance specification for their invitations to tender. This generally works well for invitations to tender bids for basic goods which are easily comparable. Unfortunately, when procuring complex technical solutions and specialized software systems, performance specifications are very often not rendered in an optimal manner. What is especially problematic is that performance specifications can contain latent problems which are often discovered only when the system is delivered or put into operation, or even when it is being used on a daily basis. This subsequently results in delays, inefficient work and excessive costs for change requests.
Our consulting approach to requirements engineering
We place requirements for IT solutions in the context of business needs and available technical options, and thus avoid costly mistakes in planning.
Service catalog as a success factor
Designing service catalogs is the supreme discipline of requirements engineering and represents an essential success factor for an invitation to tender.
The preparation of a service catalog must be preceded by a few key cornerstones:
Functional requirements were gathered and coordinated in a comprehensive manner.

Requirements were brought into line with business strategy.

The service catalog only contains requirements which are unambiguous, clear and consistent.

The service catalog is organized so as to be understandable to potential suppliers.

The service catalog supports tendering activities both in terms of content and structure.

The service catalog makes it possible for the offers which are prepared to be easily comparable.

If necessary, the service catalog supports negotiations, e.g. by properly prioritizing requirements.

The service catalog can be used as a basis for preparing procedures to test and accept deliveries.
Our experience clearly shows that clean requirements engineering in the tendering process saves money – this is because offers can be more easily compared and negotiated and problems which arise over the course of the procedure and in using the delivered systems are significantly reduced.
Successful tendering projects handled by Spirit in Projects:
The experts at Spirit in Projects are happy to support you – we have years of experience in the field of requirements analysis, service catalogs and invitations to tender in the public sector. Through our numerous projects and clients in the public sector we provide wide experience and know-how for the optimal preparation and handling of IT invitations to tender.
https://spiritinprojects.com/wp-content/uploads/2019/06/ausschreibungen_spiritinprojects.jpg
600
1200
spiritmarketing
https://spiritinprojects.com/wp-content/uploads/2020/04/sip_web_padding_10px_topbot.jpg
spiritmarketing
2019-05-25 16:04:09
2020-03-25 18:01:20
Invitations to tender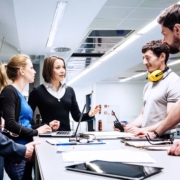 Digitalization has turned into one of the most important drivers for innovation in recent decades. Changes in economy and society triggered by digitalization keep accelerating faster and faster. Much of the business world is undergoing radical change: The "New Economy" which was promised in the 1990s has already become a reality in many areas. This technological change doesn't affect only business processes, but also entire areas of industry and even societies.
Digitalization is therefore a difficult concept to grasp since it actually has 2 meanings. Both of these are often combined:
DIGITALIZATION AS CHANGER OF ECONOMY AND SOCIETY
Digital change with regard to the social change of economy and society is characterized by a number of different themes:
Globalization of services, even in relatively small companies (e.g. Netflix, Twitter, Instagram)

Increasing separation between service and delivery (e.g. Uber, Alibaba, Airbnb)

Rapid change especially in services



Direct sales channel to end customers (e.g. online shop systems)
Direct marketing to end customers (e.g. social media marketing)
Increased transparency in comparisons of products and services
Intensive use of available data (comprehensive and current) to make decisions in business processes (e.g. recommendations in online shop systems)

Use of available data to develop forecasts which are in turn used for decisions in business processes (e.g. predictive maintenance)

Data protection and data security are once again becoming relevant themes.



Resolution of media disruptions in end-to-end business processes (e.g. online management)
Smartphone and app as on-site office, always available from anywhere
DIGITALIZATION AND USE OF IT TECHNOLOGIES
Digitalization is often thought of as the implementation of new IT technologies in a company/business division or in an organization. Technology can then also be a catalyst for repositioning processes or business models. The most important technologies which drive this change include:
Consistent use of web and mobile first technologies


Fixed and mobile broadband Internet

Virtualization and cloud

Big Data

Artificial Intelligence

Agile software development

Script languages & web frameworks
MEETING THE CHALLENGE OF DIGITALIZATION
These changes as well as the multitude of new themes pose a huge challenge to companies and public institutions. Meeting the challenge of digitalization means:
Seeing and implementing digitalization as a comprehensive approach for changing society, technology, markets, organizations and processes.
Project visions must look at least 2 – 3 years into the future so that a solution isn't already obsolete by the time it's implemented. This means a vision must take technical advancements and societal changes into consideration.
Promoting the use of agile solutions in designing products, all the way up to implementation of IT systems, and actively pursuing the maturation of results.
Promoting disruption on all levels in areas where change will produce clearly recognizable advantages.
Learning from mistakes and quickly providing for change for solutions which cannot fulfill their expected goals.
Making organizations fit for rapid changes, since technology and related innovations are being developed faster and faster.
Our experience shows that digitalization can quickly overtax any organization. Everybody wants to join in – but it's often not easy to bring about an actual benefit for one's own business. For over ten years, we've followed the approach of combining business and IT into one, to generate added value for our clients.
SUCCESSFUL DIGITALIZATION WITH SPIRIT IN PROJECTS:
The experts at Spirit in Projects are always ready to help you when you want to implement digitalization to make your business sustainable. This includes analyzing and re-positioning your processes and implementing IT technologies so they run in an optimal manner.
More about our consulting approaches to digitalization
BUSINESS ANALYSIS AND BUSINESS PROCESSES
We integrate IT requirements with business process management to achieve maximum value and efficiency for our customers.
We combine extensive experience in managing complex projects with in-depth technical know-how.
We see enterprise architecture as a informatics method for proactively shaping businesses.
Demand and Program Management
We focus on selecting the right methods and processes based on project goals, resources and framework conditions.
https://spiritinprojects.com/wp-content/uploads/2019/06/digitalisierung_spiritinprojects.jpg
600
1200
spiritmarketing
https://spiritinprojects.com/wp-content/uploads/2020/04/sip_web_padding_10px_topbot.jpg
spiritmarketing
2019-05-25 16:03:29
2020-03-25 17:59:54
Digitalization
Orientation
Because of its speed, innovation brings a lot of uncertainty. We provide guidance based on our experience and specialized knowledge.
Priorization
These days, buzzwords have become the currency of innovation. We'll help you identify which trends are actually important for your business – and which aren't.
Know-How
We'll help you build up the know-how you'll need to manage innovation in your company, and together with you, we'll enable digital innovation.
Innovation with passion and vision
Innovation is a colloquial term which refers to the creation of new ideas and inventions and their application. Innovation has therefore accompanied humanity since its earliest days. Innovation at first moved very slowly – hundreds of years passed between major innovations. Nevertheless, innovations have always led to changes and adjustments in society, the economy and everyday life. 

The rate of innovation has continuously accelerated over the centuries so that by now almost every person has been affected by at least one relevant innovation over the course of his or her lifetime.
The new challenge
The rate of technical innovation as well as its effects have experienced especially rapid acceleration over the past 50 years. The "Cambrian Explosion of Data" graphic to the right provides one example of this – the mass of data has increased exponentially over the last decade, and with structured data the next paradigm shift has already been heralded.
Because of such acceleration, changes due to technical innovation are impacting our daily lives like no previous generation. Certainties will be overturned and new playing rules will be created within just a few years. These days, it's nearly impossible to predict the future. As a result, many people feel like they're racing up an unknown mountain road in a sports car and the accelerator's stuck.
In such a situation it's important, especially for companies and organizations, to keep a cool head. Both hands on the steering wheel, and react quickly and flexibly so you're sure not to fall asleep and miss the next curve.

Innovations come into being constantly, with or without our help and outside of our personal sphere of influence. Anyone who wants to use innovations to benefit society, the economy and our personal lives requires joy in shaping the future, a high level of attention and active participation.

Spirit in Projects has made it our goal to support you to the full extent of our abilities. We see technology and IT as a realm for opportunity, but one which can also bring uncertainty. As engineers, our goal isn't just to provide rapid, state-of-the-art developments but also to generate long-term value for our customers through quality planning and foresight.
At Spirit in Projects, we see IT as a realm where ideas can be transformed into reality. We truly enjoy IT and the rapid changes it brings. And we're convinced that it'll improve all our lives for the better.
Karl Schott

CEO and passionate innovator
https://spiritinprojects.com/wp-content/uploads/2019/06/agile_kanban_spiritinprojects.jpg
627
1254
spiritmarketing
https://spiritinprojects.com/wp-content/uploads/2020/04/sip_web_padding_10px_topbot.jpg
spiritmarketing
2019-05-25 16:04:49
2020-03-25 17:57:50
Agile Methods
https://spiritinprojects.com/wp-content/uploads/2019/06/ausschreibungen_spiritinprojects.jpg
600
1200
spiritmarketing
https://spiritinprojects.com/wp-content/uploads/2020/04/sip_web_padding_10px_topbot.jpg
spiritmarketing
2019-05-25 16:04:09
2020-03-25 18:01:20
Invitations to tender
Successful innovation with Spirit in Projects:
Properly categorizing innovation
Innovation isn't just cut and dried. As part of our approach to innovation management, we at Spirit in Projects categorize current developments and buzzwords within an overall context. We think outside just the IT box and see connections to other disciplines – this allows us to better assess the potential and significance of innovations for our clients.
2022

2017

2007

2006

Cloud computing starts (AWS)

1995

1993

1991

1988

1980

1971

1970

1963

1958

1941

Programmable digital computer

1936

First foundations of information technology (Turing machine)

1935

First mechanical punch card computer

1843

First mathematical foundations of programming

1837

Programmable mechanical calculator

1805

1679

1642

1510

ca. 1280

ca. 300 B.C.

ca. 1100 B.C.
https://spiritinprojects.com/wp-content/uploads/2019/05/innovation.jpg
600
1200
spiritmarketing
https://spiritinprojects.com/wp-content/uploads/2020/04/sip_web_padding_10px_topbot.jpg
spiritmarketing
2019-05-15 22:06:48
2021-05-02 14:47:50
Innovation
Scroll to top
Our website only uses technical necessary cookies. We do not use third party services.
Close
Cookie and Privacy Settings
How we use cookies
We may request cookies to be set on your device. We use cookies to let us know when you visit our websites, how you interact with us, to enrich your user experience, and to customize your relationship with our website.
Click on the different category headings to find out more. You can also change some of your preferences. Note that blocking some types of cookies may impact your experience on our websites and the services we are able to offer.
Essential Website Cookies
These cookies are strictly necessary to provide you with services available through our website and to use some of its features.
Because these cookies are strictly necessary to deliver the website, refusing them will have impact how our site functions. You always can block or delete cookies by changing your browser settings and force blocking all cookies on this website. But this will always prompt you to accept/refuse cookies when revisiting our site.
We fully respect if you want to refuse cookies but to avoid asking you again and again kindly allow us to store a cookie for that. You are free to opt out any time or opt in for other cookies to get a better experience. If you refuse cookies we will remove all set cookies in our domain.
We provide you with a list of stored cookies on your computer in our domain so you can check what we stored. Due to security reasons we are not able to show or modify cookies from other domains. You can check these in your browser security settings.
Other external services
We also use different external services like Google Webfonts, Google Maps, and external Video providers. Since these providers may collect personal data like your IP address we allow you to block them here. Please be aware that this might heavily reduce the functionality and appearance of our site. Changes will take effect once you reload the page.
Google Webfont Settings:
Google Map Settings:
Google reCaptcha Settings:
Vimeo and Youtube video embeds:
Privacy Policy
You can read about our cookies and privacy settings in detail on our Privacy Policy Page.